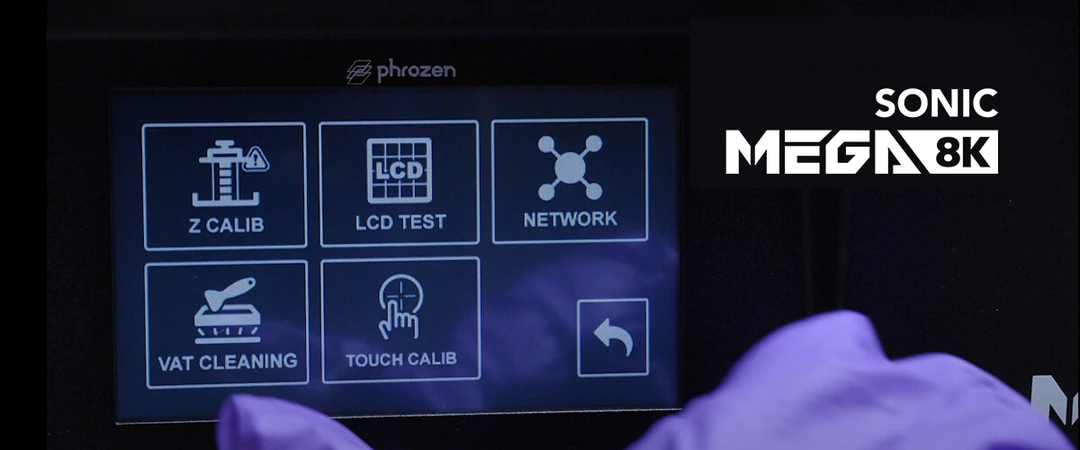 After going through the entire Sonic Mega 8K printing process, it's time to learn how to maintain your device after you're done printing.
Let's get started:
Sonic Mega 8K: Maintenance
Step 1: If you're planning on using the same resin for your next print, then make sure to use the Vat Cleaning function on your Sonic Mega 8K. This is to ensure that there is no cured resin left in the vat.


Step 2: Fold a piece of paper in half and place half on it in the corner of the resin vat. Then click on Tools and select Vat Cleaning. Set the cleaning tray exposure time to 20 seconds. Then click on Next. You'll hear a beeping sound when this process is complete.
Step 3: Lift up the piece of paper and the cured sheet of resin will come right off.
Step 4: As there may still be pieces of cured resin leftover in the resin vat, please pour the resin through a filter to make sure that every last piece of cured resin is effectively removed.

Cured resin residue in the vat may lead to FEP film breakage which may damage your 3D printer.

Step 5: Place the cured sheet of resin on a metal tray and avoid dripping resin onto your 3D printer.
Step 6: Then use some clean paper towels to clean up the building plate. Make sure to wipe the entire plate.
Step 7: Immerse the building plate in a clean bucket filled with 95% IPA for about an hour.
Step 8: Remove the building plate and wipe off any excess IPA. Make sure no cured resin is left in the holes of the building plate.

You're done! You're all set to begin your next printing journey with the Sonic Mega 8K.

Click here to view the entire Sonic Mega 8K Starter Guide.