As 3D printers are used over time, dust and debris can accumulate on the Z-axis and bearing sleeve, leading to malfunctions and the appearance of layer lines on printed objects. In some cases, the Z-axis may need to be replaced entirely.
To maintain the Z-axis, it is necessary to regularly clean the Z-axis and bearing sleeve, which can help to improve print quality and extend the lifespan of the printer
In this article, we'll show you how to clean the Z-axis, including the bearing sleeve and lead screw.
Dry Cleaning the Z-axis
Remove the UV cover, resin vat, and building plate
Select TOOLS to manually position the building plate at the top
Use kitchen paper towels to dry clean the Z-axis, and apply sanitizing alcohol if needed
Lubricating the Z-axis
Run the Z-axis calibration
Lubricate the bearing sleeve while the T-plate moves down every 20mm to 30 mm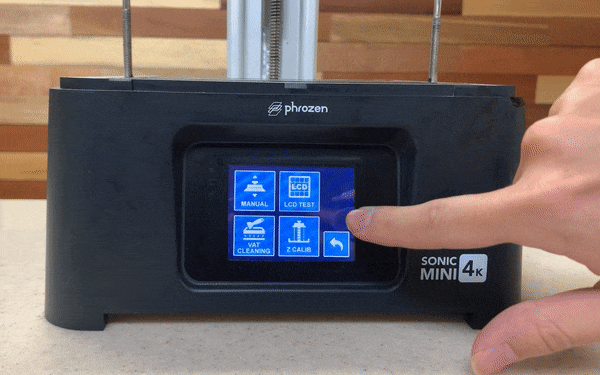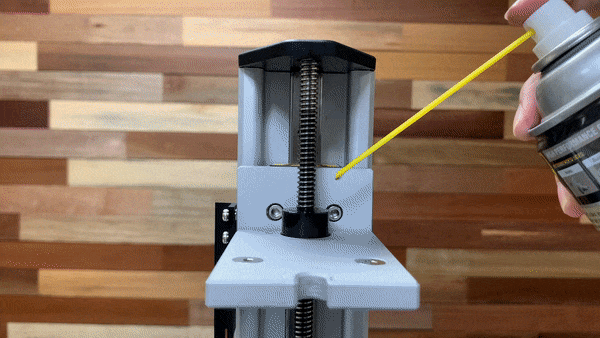 Lubricants for Z-axis
To avoid the appearance of layer lines on the surface of your prints, it's important to ensure that the bearings and screws rotate smoothly. As part of the Z-axis cleaning process, we recommend applying the following lubricants:
WD-40 Specialist® Dry Lube with PTFE
The best choice for Z-axis screw lubrication is the dry PTFE-based lubricant. The dry PTFE reduces friction and provides protection with no oily residue. It is only suitable for T8 lead screws.
SUPER LUBE® Synthetic Oil with PTFE
The synthetic oil with PTFE particles bonds to surfaces of moving parts providing protection from friction, wear, and rust. It is safe on metal and plastic. It is only suitable for T8 lead screws.
Shell Alvania Grease S
Shell Alvania Grease S is a high-quality lithium-based grease used to lubricate ball screws. It provides long-lasting lubrication, reduces friction and wear, and is resistant to water washout. Its versatility makes it suitable for use in high and low-temperature applications.
REACH_151 EP Lithium Grease
REACH_151 EP Lithium Grease is a premium quality lubricant that is commonly used in a wide range of applications like for ball screws. It is designed to provide superior protection against wear and tear, reduce friction, and promote the smooth and consistent operation of machinery and equipment.
What to Avoid?
To prevent issues, it is important to avoid using lubricants with

rust removal

features.
It is NOT recommended to mix WD-40 3-in-1 Lube with WD-40 Dry Lube with PTFE. Doing so can cause potential problems.
Choosing the Right Lubricant for Your 3D Printer
Consult the list below for further information on which lubricant is most suitable for your printer.
| | | | | |
| --- | --- | --- | --- | --- |
| Printer / Lubricants | WD-40 Specialist® Dry Lube with PTFE | SUPER LUBE® Synthetic Oil with PTFE | Shell_Alvania Grease S 2 | REACH_151 EP Lithium Grease |
| Sonic Mini 8K S | ⬤ | ⬤ | | |
| Sonic Mighty 8K | ⬤ | ⬤ | | |
| Sonic Mini 8K | ⬤ | ⬤ | | |
| Sonic Mega 8K | | | ⬤ | ⬤ |
| Sonic Mighty 4K | ⬤ | ⬤ | | |
| Sonic Mini 4K | ⬤ | ⬤ | | |
| Sonic Mini | ⬤ | ⬤ | | |
| Sonic 4K 2022 | | | ⬤ | ⬤ |
| Sonic XL 4K 2022 | | | ⬤ | ⬤ |
| Sonic 4K | ⬤ | ⬤ | | |
| Sonic XL 4K | | | ⬤ | ⬤ |
| Transform | | | ⬤ | ⬤ |